Views :4426
Recommendation:
Votes:0
Discuss:0

The 19th Mechanical Components & Materials Technology Expo (M-Tech) saw its opening on June 24 at Tokyo Big Sight. China Fastener Info with its latest China Fastener Directory 2015 Plus (CFD2015Plus) attended the exhibition, kicking off CFD's 77th stop of its global trip (Booth No. W1-5).

CFI 's representative--Ms. Wang Ting

M-Tech organized by Reed Exhibitions is Japan's largest exhibition gathering all kinds of mechanical parts such as bearings, fasteners, mechanical springs and metal and plastic processing technology.


The concurrent exhibitions included 26th Design Engineering & Manufacturing Solutions Expo (DMS), 23rd 3D & Virtual Reality Expo (IVR) and 6th Medical Device Development & Manufacturing Expo (MEDIX).

Left: Mr. He Xuekang, general manager of Pinghu Kangchengda


It's estimated that Manufacturing World Japan 2015 attracted 2,230 brands to display the latest products and technology, and expected to receive 82,000 visitors from all round the world.


About 25 Chinese fastener exhibitors participated in M-Tech. They were Chunyu Group, Zhejiang Kaisheng, Haiyan Fuxin, Jiashan Yongxin, Zhongshan Qiangxin, Ningbo Jinding, Eagle Metalware, Jiaxing Brother, Zhejiang Taisheng, etc.

Chinese Pavilion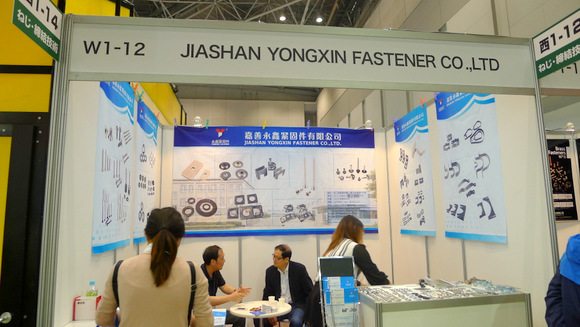 Jiashan Yongxin
On Day 1, our new magazines—
CFDs
were quite popular with visitors. Most of the visitors were local businessmen, others were from Europe, America, etc. Some visitors who had offices in China came to inquire about Chinese fastener industry and suppliers. Visitors were mainly from industries such as automotive, precision equipment, machinery, electronics, aerospace, and robot and so on.
According to the inquiries from visitors, stainless steel screws and bolts were the two main categories that they were looking for. While recommending suppliers to visitors, representative from CFI also invited them to visit the upcoming
15th Fastener Trade Show Suzhou
which will be scheduled on
October 21-23, 2015
at Suzhou International Expo, Suzhou. Many visitors showed keen interest in the show, and some even noted that they had got the show information from the local Japanese media and already arranged their schedule. However, they also hoped that we can provide the exhibitor information for them ahead of time.
2015-06-25