Views :411
Recommendation:
Votes:0
Discuss:0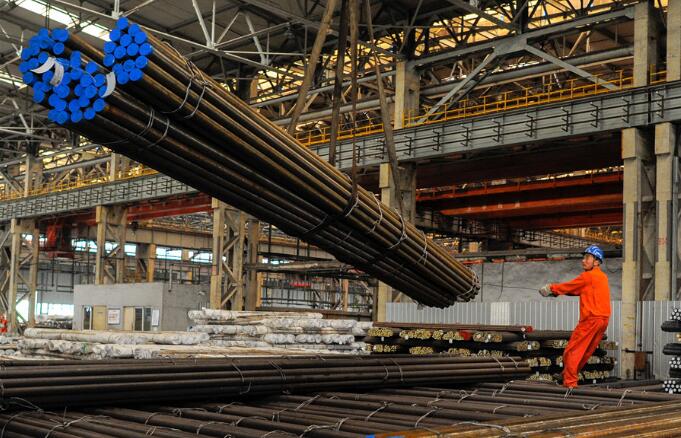 A Dongbei Special Steel Group Co Ltd employee helps move finished steel products at a factory in Dalian, Liaoning province. [Photo by Wang Yang / For China Daily]
Growing awareness propelling SOEs, private companies to transform, upgrade
China's steel industry is veering toward smart manufacturing, thanks to the growing awareness about high-quality development at State-owned and private enterprises, said experts, adding that major breakthroughs could be expected in the sector in the next five to six years.
"Smart manufacturing is a realistic way for the steel industry to transform and upgrade, and is also important for the high-quality development of the sector," said Li Xinchuang, president of the China Metallurgical Industry Planning and Research Institute.
"Although smart manufacturing in the steel industry is still at an early stage in China, the development of the industrial internet provides an important platform for the Chinese steel sector to make better use of smart manufacturing technologies, especially as wide application of cloud and big data technologies is becoming a reality in China."
Li made the remarks during a forum on smart manufacturing in the steel industry, in Xingtai city, Hebei province.
He said that the Chinese steel industry has achieved remarkable progress in production automation and digitalization of management processes, providing a solid base for further transition to smart manufacturing.
Last year, 78.1 percent of large-scale steel companies adopted digital control systems in key production procedures, which was28.7 percentage points higher than the national average, and 19.9 percent of them were ready to realize smart manufacturing, 12.9 percentage points higher than the national average, according to a recent report from China Industrial Control Systems Cyber Emergency Response Team and the Contemporary Service Alliance for Integration of Informatization and Industrialization.
Wang Guoqing, research director at Lange Steel Information Research Center, said as more and more steel companies are investing in smart manufacturing-related projects, it is highly likely that a number of Chinese steel companies will realize smart manufacturing before 2026.
Wang said smart manufacturing is a whole-supply-chain process that includes not only steel production, but also smart technology-based raw material sourcing, inventory management, and marketing, and needs to be customer-focused.
Currently, a lot of State-owned companies, such as China Baowu Steel Group, are taking the lead in adoption of smart manufacturing, because they are willing to invest in related equipment and technologies to increase productivity and reduce carbon emissions, in pursuit of high-quality development as a positive response to the national agenda, according to Wang.
The private sector is also now more willing to spend money on smart manufacturing upgrades, because they have become aware of the ample returns on such investment, as smart technologies will bring about higher efficiency, lower costs and increased profitability, she said.
Since 2015, the Ministry of Industry and Information Technology has announced four batches of pilot smart manufacturing projects nationwide, and nine steel projects have been selected.
Most of the companies selected are State-owned enterprises, such as Angang Steel Co Ltd and China Baowu Steel Group, while two private companies, Hengyang Valin Steel Tube Co Ltd and Shandong SNTON Steel Cord Co Ltd, were also selected.
Source: China Daily
2019-07-22