Views :2383
Recommendation:
Votes:0
Discuss:0
U.S. fastener imports of iron and steel fasteners (HTS Code: 7318) declined 5% month-to-month to $493,021,629 in March and exports decreased 4% to $330,258,346.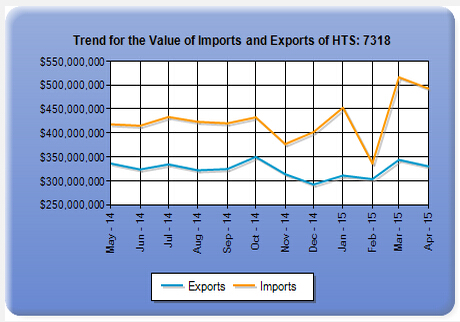 Screws, Bolts, Nuts, Coach Screws, Screw Hooks, Rivets, Cotters, Cotter Pins, Washers and Similar Articles, Of Iron or Steel

The top five exporters of fasteners to U.S. during April were Chinese Taiwan (down 11.73% month-to-month to $160.70 million); Mainland China (down 8.83% to $107.11 million); Japan (up 7.80% to $71.97 million); Germany (up 5.63% to $35.26 million); and Canada (down 5.72% to $27.03 million).


The top five consumers of U.S. fastener exports in April were Mexico (down 3.14% month-to-month to $111.33 million); Canada (up 3.96% to $90.75 million); China (down 6.67% to $15.67 million); UK (down 14.86% to $13.18 million); and Germany (down 9.91% to $9.36 million).

Data source: Zepol
www.chinaFastener.info
2015-06-10