Views :181
Recommendation:
Votes:0
Discuss:0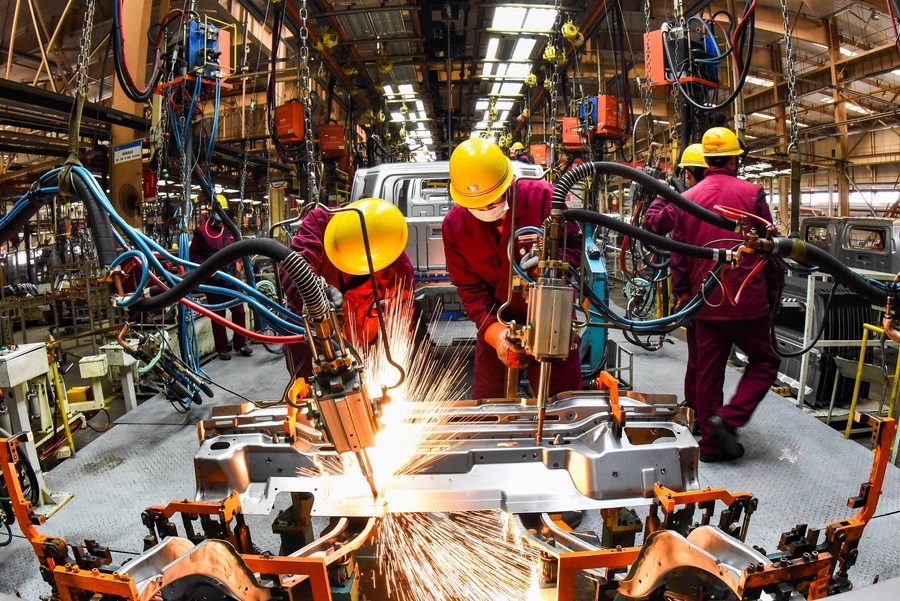 Workers weld at a workshop of an automobile manufacturing enterprise in Qingzhou city, East China's Shandong province, Feb 28, 2021. [Photo/Xinhua]
The official purchasing managers index for China's manufacturing sector declined for the fifth consecutive month to 50.1 in August, the lowest level in 18 months, indicating a softening expansion of the sector, the National Bureau of Statistics said on Tuesday.
Despite the slowdown, the PMI has stayed above the mark of 50, which separates expansion from contraction, as production maintained steady growth, the bureau said.
The reading was down from 50.4 in July, as market demand weakened while delivery time lengthened, the NBS said. The subindex of new orders dropped into contractionary territory for the first time in 18 months and came in at 49.6, versus 50.9 in July.
Raw material inventory and employment of the manufacturing sector continued to contract in August, with their subgauges coming in at the same level with July.
The pressure of surging prices eased in August as the subindexes of raw material prices and factory-gate prices both declined, but remained in expansionary territory at 61.3 and 53.4, respectively.
China's nonmanufacturing PMI dropped to 47.5 in August, compared with 53.3 in July, pointing to a contraction in nonmanufacturing activities due to the resurgence of local COVID-19 cases in some parts of the country.
The composite PMI, which covers the manufacturing and nonmanufacturing sectors, went down to 48.9 from July's 52.4, indicating economic activities have notably slowed down from the previous month, according to the NBS.
Source: Xinhua
2021-08-31